We are delighted to have you visit our page.
Right Here Right Now Africa, our anthem for #MamaAfrica launches on all platforms on Africa Day, May 25, 2019. If you're looking for information about Maame, Ivy and the project, you are in the right place. Our official press statement about Right Here Right Now Africa is on this page.
Contact our team at [email protected] for additional information. Thank You!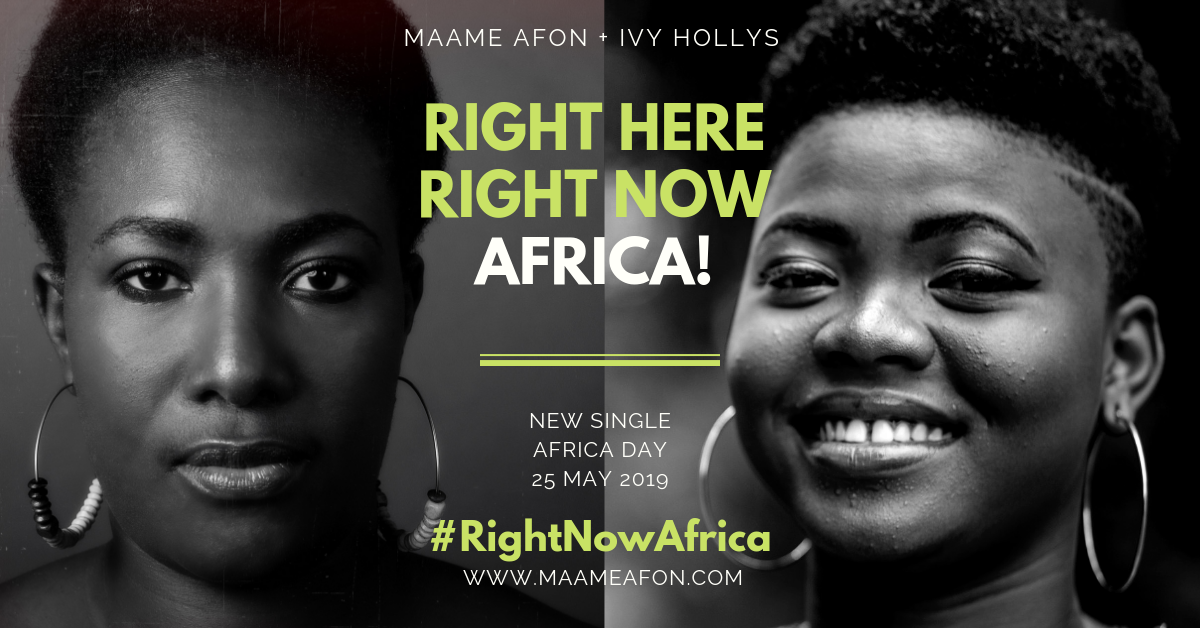 Close your eyes and visualize
Africa like Paradise
Turn the frown upside down
Right Here. Right Now. We are the change!
These words from Maame Afon's vibrant new song collaboration with Ivy Hollys will get you moving to the groove. In 2017, during a session Maame Afon was facilitating at the MasterCard Foundation Baobab Summit for African Secondary Scholars, she challenged the young audience to boldly operate in their unique talents and gifts. Ivy Hollys, a high school student from Ghana at the time, was inspired to write what would become the genesis of this song. Two years later, through consistent mentorship and collaboration, we are launching "Right Here, Right Now Africa" as an anthem to commemorate Africa Day! Empower People, Celebrate their Gifts, Unleash their Potential!
As an internationally recognized thought leader, mentor and passionate advocate for women's right, leadership, and development, Maame Afon is keen on amplifying voices, and she models this by using her own voice as a dynamic singer and recording artiste. Maame affirms the power of music as a catalyst for change, for movement-building and for promoting philanthropy. She writes, "the times when I have woven music into social justice related programs, like at the African Feminist Forum, MasterCard Foundation Baobab Summit, Caribbean Heritage Organization's Salute to Hollywood and the Arts, Global Fund for Women and  African Women's Development Fund programs, I have noticed a shift, an uplifting experience, soothing of the heart and refreshing energy to move forward with determination, renewed zeal and passion. Simple songs calling people to action remain on the lips of many and eventually become an anthem, a connecting factor to others, with a simple message of hope and inspiration in service to social change and justice."
In speaking with both Maame Afon and Ivy Hollys about their experience and journey collaborating to create  this new anthem, it is clear how music by itself can mobilize people to take action at all levels for meaningful and transformative change. #RightNOWAfrica will connect to ongoing efforts to shift the narrative about Africa, providing other avenues to express and visualize Mama Africa unchained, flourishing and thriving!
Right Here Right Now Africa is available on all major music streaming and download platforms.
Maame Afon Biography
Maame Afon is a Ghanaian-born artiste who released her debut album, RISE, in May 2012. She followed that up with Ekome(2014), Olorun(2015) and Bloom(2017). Her music and message transcends multiple genres, ranging from gospel and inspirational to music for social justice. Her four(4) music projects to date offer a mélange of rhythmic and melodic influences from Gospel, Afrobeat, Zouk, R&B, Reggae, Highlife and Jazz. In addition to being a dynamic singer and recording artist who uses music to promote philanthropy and social justice, Maame Afon is a gender and leadership specialist, activist, coach/mentor, facilitator, and mother who enjoys raising her three children with her husband. She uses her professional experience in service to organizations including the Global Fund for Women, We Care Solar (Board Chair), African Women's Development Fund USA (Board Chair), Moremi Initiative, Cocoa360, Ghana Bamboo Bikes, Days for Girls-Ghana, Street Business School, How Women Lead, and Nurturing Minds/SEGA among others. Maame holds a B.A. in French and Spanish and an M.A. in human rights, gender and international development. She was recognized as one of the 18 African Feminists to know by For Harriet (2015). She is also a  2019 Rise Up Leader, a 2016 Cordes Fellow and a 2009 Woman Leader for the World (How Women Lead). Maame is the founder and lead trainer/facilitator of Management for Impact Leadership and Transformation (MILT).
Ivy Hollys Biography
Kpankpari Ivy Hollys Vielongsoma is a dynamic singer and an emerging Ghanaian music artist who is currently completing her first year in the department of Forest Resources Technology at the Kwame Nkrumah University of Science and Technology in Kumasi, Ghana. Throughout her Middle and High School education, she was a MasterCard Foundation Scholar. Ivy Hollys started singing at 12 years and since then has only grown in her passion and skill as a singer. She describes herself as  "being passionate about the things of God, music and young people who are dedicated to building their leadership capacity to promote positive change. Her vision is to become a phenomenal musician. Rooted in her understanding that before leadership comes service, Ivy Hollys is committed to contributing to society through the building of an orphanage to support marginalized, underserved and vulnerable people. Her professional career goal also includes facilitating various processes to nurture young talent and support youth in the pursuit of their dreams to unleash their potential.
Official Photos
A gallery of Maame Afon and Ivy Hollys is available at the bottom of this page.
Inquiries and Booking: Nii Sai Sai | [email protected] | (510) 545-6724
Right Here Right Now Africa Credits:
Vocals – Maame Afon & Ivy Hollys Kpankpari
Rap – Tawiah Sai & Akuokor Sai
Drums – Emmanuel Bludo
Bass – Prince Sennah
Guitar – Dominic Quarchie
Keys – Charles Osei
Percussion – Nii Sai Sai
Groove House Studios – Ghana
Infinite Studios – Alameda, USA
Engineer – Chris Walter
Mixing & Mastering – Michael Denten
Song written by – Ivy Hollys Kpankpari, Maame Afon & Nii Sai Sai
Produced and Arranged by – Nii Sai Sai & Prince Sennah
Executive Producer – Nii Sai Sai
Photography – Pamela Jacobsen-Pratte & Attuquaye Korley
Cover Design – Nana Kofi Acquah
All Rights Reserved. Copyright and Publisher: Akwantu Media LLC